Air Conditioning Repair Services in Lincoln, NE. Fast Response and Quality Service.
Bill's has provided Lincoln Air Conditioning Repair and HVAC services since 1953. We repair, service and install air conditioners, furnace units, mini-split systems, and indoor air purification systems. We pass on the promotions American Standard offers as a Comfort Care Dealer. Consider a Service Agreement to maintain your system to prevent unplanned issues and ensure the efficiency of your system throughout the seasons.
Bill's Heating and Air responds to your service and repair issues quickly. Our dedicated technicians will diagnose and repair issues with all makes and models. We are locally owned and operated!
Don't let this scenario happen to you!
When you come home from work or an outdoor excursion, turn down the air conditioner a degree or two and expect cool air to circulate throughout your home, relieving you from the heat outside. But for some reason, the house refuses to cool down. A lack of cooling air is your signal to call Bill's for Air Conditioning Repair.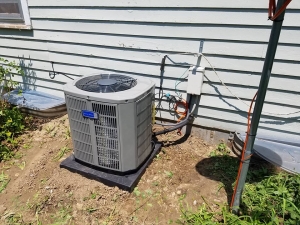 No matter how efficient or new your air conditioning system is, it can still have performance issues. One reason could be due to insufficient maintenance. Industry experts and HVAC equipment companies suggest scheduling a regular Air Conditioner tune-up to keep your equipment running smoothly. Another potential reason for a lack of cool air is your system has damage to the unit, or a condenser coil needs cleaning. Only a certified AC technician can address that problem.
Call on Bill's Heating & Air Conditioning in Lincoln to help you beat the heat with high-quality Air Conditioning Repair in Lincoln or a tune-up. The highly trained techs at Bill's will diagnose the problem and work on repairing your equipment so you are comfortable in your home or office again.
Avoid Unexpected Air Conditioning Repairs with a Service Contract from Bill's
With a Service Contract from Bill's, the risk of unexpected repair costs is lessened. A Contract includes our twice-a-year scheduled maintenance. We inform you in advance when our techs identify potential problems, informing you about any issues with your air conditioning equipment. It isn't perfect, but it's pretty darn close!
Choose A/C ReNew!
Let Bill's Heating and Air Conditioning Renew your Air Conditioner, increase efficiency, and extend the life of your equipment with A/C ReNew! Ask about it at your next service appointment, or call our office for more information!